SUPPORT YOUR BABY'S FIRST STEPS, IN A HEALTHY WAY.
PRODUCT DESCRIPTION
Adorable Animals™️ is a collection of our award-winning non-slip slippers that is truly a crowd favorite. Coming in a variety of cute & cuddly animals, there is sure to be a pair that suits your bubba!
Buy 2 Get 1 Free(Sale Ends January 1)
To get your Free Pair Please add all 3 pairs to your cart!
Benefits
Promoting Healthy Growth Of Their Precious Feet
Adorable Animals™ allow good growth of the arch without compressing the bones & muscles. The foot remains free and can develop naturally and normally. 
A Healthy, Happy Toddler Means A Healthy, Happy Mum.

Every mum has that moment when they're running late with a toddler in tow. A missing shoe, a battle to put socks on, and endless tears. For that reason, Adorable Animals™ are designed to make a mum's life that little bit easier.
Endorsed By Leading Child Focused Podiatrists
Made in South Korea from natural cotton and rubber, Adorable Animals ™ shoes are based on 7 years of research and are endorsed by leading US podiatrists.



Indoors Or Outdoors? We Have Both Covered.
They can be worn indoors and outdoors, so there is no need to have separate shoes at home or the park. Think of them as two-in-one! 

Start Your Mornings Stress-Free & With No Missing Shoes

When you're running out the door to work, a playdate, or even daycare, slip your Adorable Animals™ shoes on your toddler with ease. You'll feel confident knowing they won't fall off and your toddler will walk with confidence and ease all day long.
Your Baby Will Never Want To Take Them Off
Adorable Animals™ are so comfortable, your baby will absolutely love them. They will want to wear them during meals, play walks… even sleep!
Feautres
The ultra-thin, yet sturdy design mimics the feeling of being barefoot to get them used to wear shoes.
Let your baby safely take their first steps to develop motor skills with the non-slip rubber bottom design.
Worn Indoors Or Outdoors

Our slippers can be worn from the time they wake up until they go to sleep. Suitable for any occasion!
Wash 2 Tiny Feet with ease. Simply throw them in with your normal load of washing.

Your toddler will feel the ground with every step, helping them learn to walk independently and keep their feet safe and comfortable all year round.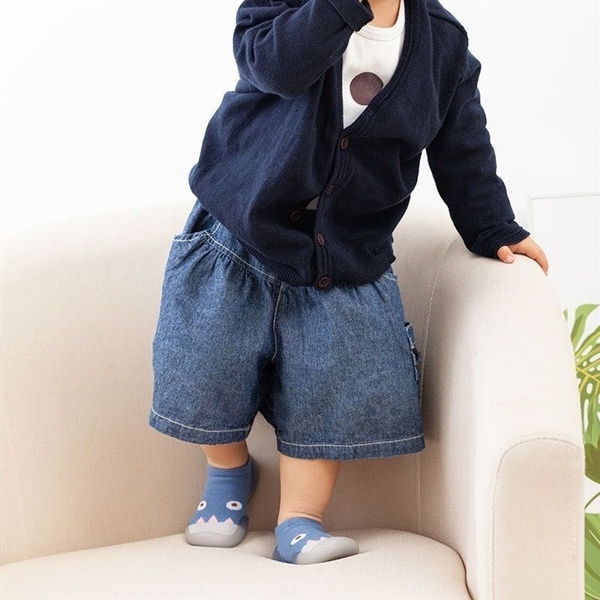 FAQ
When should my baby start wearing Adorable Animals™ shoes?
Typically, babies start standing, crawling, and 'cruising' around furniture (walking with the aid of chairs and tables) around the 6-8 month mark, so we recommend wearing Adorable Animals™ from the age of 4 months or so. This gives your baby time to adjust to having their feet covered.
How do I care for my Adorable Animals™ shoes?
Adorable Animals™ shoes are fully machine washable to 30 degrees Celcius. Please use a laundry bag to preserve the fabric and air-dry only (avoid the dryer). Adorable Animals™ shoes can be washed with your regular loads so no need for separate washes!
Can Adorable Animals™ shoes be worn indoors and outdoors?
Yes, absolutely! Adorable Animals™ can be worn indoors or outdoors and are fully machine washable. Avoid wet surfaces as Adorable Animals™ shoes contain fine holes on the sole for breathability.
Do you have to wear socks with Adorable Animals™ shoes?
No, socks are not required as Adorable Animals™ shoes are fully lined with a cotton blend sock. However, feel free to wear socks if you require more warmth in the cooler months.


Items can be easily returned within 30 days after delivery.
Please contact our customer service team if you need to process a return for any reason,

 

support@neecoofficial.com
Please include your Order Number and Name.